Gold Mountain 2017 Junior Camp
July 10 – 14 | Ages 6 – 17
$125 Per Junior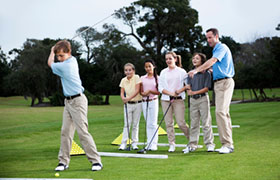 During the Gold Mountain Junior Camp, juniors will experience lessons in putting, chipping, iron play, driving, and golf etiquette over the course of the first three days. On their final day all juniors will get the chance to play nine holes on the championship Cascade Course. Junior Camp is now open for registration and does have a limited amount of available spots, call today to register your junior!
July 10 – 13 | Lessons | 8:00am to 12:00pm
Call 360.415.5432 or email Travis Cary, PGA Assistant Professional, at travis.cary@goldmt.com for more information.